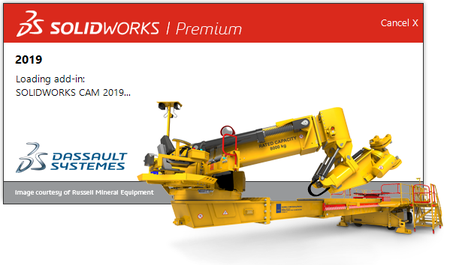 SolidWorks 2019 SP3.0 Premium Multilingual | 14.1 GB
Languages: English, 中文, Čeština, Español, Français, Deutsch,
Italiano, 日本語, 한국어, Polski, Português, Русский, Türkçe
SolidWorks 2019 provides the breadth of tools to tackle the most complex problems, and the depth to finish critical detail work. New features help you improve your product development process to get your innovative products into production faster.
SolidWorks 2019 delivers many enhancements and improvements, most created in direct response to customer requests.
You can tackle the most complex challenges with SolidWorks 2019 end-to-end process solutions:
Design to manufacture. Go from concept to manufactured parts even faster.
Modeling and drawings. Powerful enhancements to improve your design and detailing experience.
Performance. Faster large assembly design, rendering, and collaboration.
New technology. Increased productivity when using the latest touch-enabled devices.
Collaboration. Smart tools for collaborating with partners and suppliers.
Service Pack 3.0
SOLIDWORKS 2019 supports Windows Server® 2019 operating system.
Fixed an issue where some temporary files were not being cleaned up.
Improved the stability and performance of the auto-recover functionality.
SOLIDWORKS PCB Help is now available in Japanese language.
Updates to the Plastics Material Library


Added 16 new HDPE and LDPE grades from material supplier Chevron Phillips Chemical.
Added 13 new PA, PA6, PA610, PA612, PA66, and PPS grades from material supplier RadiciGroup Performance Polymers.
Removed 13 obsolete grades from material supplier EMS-GRIVORY.

Plastics Material Supplier-provided Catalogs on the 3D ContentCentral Website


You can search for plastics material databases provided by global material suppliers on the 3D ContentCentral website. In the Search field of the 3D ContentCentral home page, enter Thermoplastic Material.
You can download material data files (*.bin) for individual material grades, and add them to the User-defined Database for your analyses.

Create Body from Deformed Shape


After running a warpage analysis, you can export the deformed shape as a SOLIDWORKS part body. In the PlasticsManager, under Results, right-click Warp Results, and click Create Body from Deformed Shape.

Enhanced Solid Mesh (Auto) Procedure


The Solid Mesh (Auto) procedure is enhanced with the creation of hybrid meshes for models with single parts. If the hybrid mesh creation fails, the Solid Mesh (Auto) procedure reverts to creating a marching hexahedral mesh.

Flow, Pack, and Cool Analyses Enhancements


For the Shell and Solid mesh procedures, the Flow & Pack analyses can account for variable specific heat (C) (function of temperature) and thermal conductivity (k) material data. These material data are available for the selected material.
Improved pressure calculations in the pure cooling phase to more accurately predict the pressure decay.
A new turbulence (k-ω) model calculates the flow of coolant in the cooling circuits and improves the accuracy of Cool simulations.