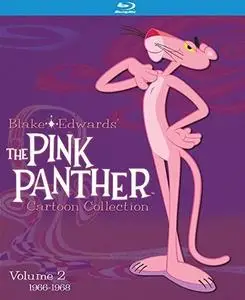 The Pink Panther Cartoon Collection: Volume 2 (1966-1968)
BDRip 720p | MKV | AVC 1280x720, ~ 3.0 Mbps | 20 x ~ 7mn | ~ 20 x ~ 150 MB
English: AC3, 2 ch, 256 Kbps | Subtitles: None
Genre: Animation, Comedy, Family, Short
Stars:
Paul Frees, Rich Little, Dave Barry
Film Distributor:
Kino Lorber
"Volume 2" moves Pink Panther into the late 1960s, where the character is faced with a growing audience. Producers attempt to find a way to make the icon cool for kiddies, with the aptly named "Psychedelic Pink" whisking the curious cat into a book store adventure that messes with time and space while still making room for slapstick. It's easily the most interesting short of the bunch, but the rest provide consistent entertainment, watching Pink Panther and his survival instincts do battle with animals and Little Man, the hapless victim/antagonist who pops up intermittently to give the cat a more defined opponent. Risk isn't big here, but there are a few creative detours that are most welcome.
Contents:
"Pink-A-Boo" (6:14)
Trying to enjoy a nice day at home, the Pink Panther's afternoon is ruined by a meddlesome mouse who's looking to throw a party for his friends inside the walls.
"Genie with the Light Pink Fur" (6:07)
While walking one day, Pink Panther comes across a lamp on the ground, with the genie inside offering him a chance to join the team. Becoming a genie, Pink Panther quickly realizes how difficult it is to stay out of harm's way.
"Super Pink" (5:58)
Inspired by his favorite comic book, Pink Panther suits up to become a superhero, soon learning what it really takes to save the public from numerous disasters.
"Rock A Bye Pinky" (6:08)
Little Man is out in the woods with his dog for a camping trip, but his snoring is impossible to deal with, keeping Pink Panther awake. While he tries to snap Little Man out of slumber through violence, the dog manages to protect his master, only to be blamed for knocking the camper out of dreamland.
"Pinknic" (6:09)
Deep in snow country, Pink Panther is trying to stay warm and well-fed, soon finding himself trapped inside a cabin he shares with a particularly hungry mouse.
"Pink Panic" (6:01)
On a stormy night, Pink Panther enters the town of Dead Dog, looking for shelter. Finding a spot at the local hotel, Pink Panther is soon haunted by the spirits that already reside in the building.
"Pink Posies" (6:11)
Working on his garden, the Little Man prepares the soil for yellow posies, only learn that the flower is a problem for the Pink Panther, who insists on using the land to plant pink posies. Gunfights ensue.
"Pink of the Litter" (6:01)
Working to clean up his town, Pink Panther sweeps up an enormous pile of garbage, but he doesn't have anywhere to put it, battling against Little Man and nature to dispose of his unwanted collection of rubbish.
"In the Pink" (6:13)
Worried about weight gain, Pink Panther decides to join a local gym, competing for exercise space with Little Man.
"Jet Pink" (6:03)
Walking past an airfield, Pink Panther suddenly aspires to be a world-famous pilot, hopping inside a nearby X-13 jet to test his endurance with speed, immediately losing control of the airplane.
"Pink Paradise" (6:11)
Arriving on a seemingly deserted island, Pink Panther learns he's not alone, with Little Man and his dog also inhabiting the area, aggressively defending their territory.
"Pinto Pink" (6:05)
On the road as a hitchhiker, Pink Panther gets the wild idea to travel by horseback, only he has incredible trouble trying to ride the animal, who delights in thwarting such plans.
"Congratulations It's Pink" (6:12)
Arriving at a park for the special picnic, Little Man and his family deal with the Pink Panther, who's looking to steal their food, ending up with their infant instead.
"Prefabricated Pink" (6:11)
Taking a job as a construction worker, Pink Panther doesn't know what he's doing, making life difficult for Little Man, who experiences numerous accidents while on the job.
"The Hand Is Pinker Than the Eye" (6:15)
On a cold day, Pink Panther decides to break into a house owned by Zammo the Magician, who's left for the evening. Trying to navigate the illusions that litter the house, Pink Panther is stymied by the magician's malicious rabbit.
"Pink Outs" (6:14)
12 short cartoons follow Pink Panther on surreal and slapstick adventures.
"Sky Blue Pink" (6:11)
Hoping to participate in the local kite day, Pink Panther has difficulty getting his creation in the air, disrupting Little Man's afternoon of work and leisure.
"Pinkadilly Circus"(6:02)
After pulling a tack out of the Pink Panther's foot, Little Man is besieged by the animal's gratitude, eventually using Pink Panther's ferocity to combat his mean wife.
"Psychedelic Pink" (6:17)
Drawn into a strange book shop, Pink Panther enters a literary realm where he deals with the bending of reality and challenges from Little Man.
"Come On In! The Water's Pink" (6:04)
Taking a trip to Bicep Beach, Pink Panther tries to compete with the local musclemen, enjoying his day while a rival attempts to sabotage the cat's fun.
–––––––––––––––––––––––––––––––––––––––-
OR
OR
–––––––––––––––––––––––––––––––––––––––-
>>> Visit Blog RSU75 Here <<<
–––––––––––––––––––––––––––––––––––––––-