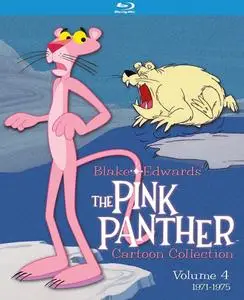 The Pink Panther Cartoon Collection: Volume 4 (1971-1975)
BDRip 720p | MKV | AVC 1280x720, ~ 3.0 Mbps | 22 x ~ 6mn | ~ 22 x ~ 140 MB
English: AC3, 2 ch, 256 Kbps | Subtitles: None
Genre: Animation, Comedy, Family, Short
Stars:
Paul Frees, Rich Little, Dave Barry
Film Distributor:
Kino Lorber
The Pink Panther was a cartoon character that was initially created for the opening credits of Blade Edward's film The Pink Panther (1963). Audiences loved the cartoon character, so Depatie-Freleng and United Artists decided to make a series of theatrical cartoons that would eventually transfer over to television for The Pink Panther Show. This disc contains 22 cartoons produced from 1971 to 1975.
Contents:
63) A Fly in the Pink
64) Pink Blue Plate
65) Pink Tuba-Dore
66) Pink Pranks
67) The Pink Flea
68) Psst Pink
69) Going With the Pink
70) Pink-In
71) Pink 8 Ball
72) Pink Aye
73) Trail of the Lonesome Pink
74) Pink Davinci
75) Pink Streaker
76) Salmon Pink
77) Forty Pink Winks
78) Pink Plasma
79) Pink Elephant
80) Keep Our Forests Pink
81) Bobolink Pink
82) It's Pink, But is it Mink?
83) Pink Campaign
84) The Scarlet Pinkernel
Extras:
- None
–––––––––––––––––––––––––––––––––––––––-
OR
OR
–––––––––––––––––––––––––––––––––––––––-
>>> Visit Blog RSU75 Here <<<
–––––––––––––––––––––––––––––––––––––––-