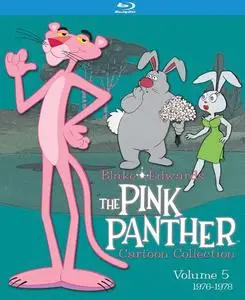 The Pink Panther Cartoon Collection: Volume 5 (1976-1978)
BDRip 720p | MKV | AVC 1280x720, ~ 3.0 Mbps | 23 x ~ 6mn | ~ 23 x ~ 140 MB
English: AC3, 2 ch, 256 Kbps | Subtitles: None
Genre: Animation, Comedy, Family, Short
Stars:
Paul Frees, Rich Little, Dave Barry
Film Distributor:
Kino Lorber
The Pink Panther was a cartoon character that was initially created for the opening credits of Blade Edward's film The Pink Panther (1963). Audiences loved the cartoon character, so Depatie-Freleng and United Artists decided to make a series of theatrical cartoons that would eventually transfer over to television for The Pink Panther Show. This disc contains 22 cartoons produced from 1971 to 1975.
Contents:
85) Mystic Pink
86) The Pink of Arabee
87) The Pink Pro
88) The Pink Piper
89) Pinky Doodle
90) Sherlock Pink
91) Rocky Pink
92) Therapeutic Pink
93) Pink Pictures
94) The Pink Arcade
95) Pink Lemonade
96) Pink Trumpet
97) Dietetic Pink
98) Sprinkle Me Pink
99) Pink U.F.O.
100) Pink Lightning
101) Cat and the Pinkstalk
102) Pink Daddy
103) Pink S.W.A.T.
104) Pink and the Shovel
105) Yankee Doodle Pink
106) Pet Pink Pebbles
107) The Pink of Bagdad
Extras:
- None
–––––––––––––––––––––––––––––––––––––––-
OR
OR
–––––––––––––––––––––––––––––––––––––––-
>>> Visit Blog RSU75 Here <<<
–––––––––––––––––––––––––––––––––––––––-