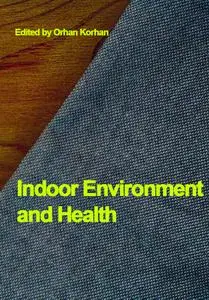 "Indoor Environment and Health" ed. by Orhan Korhan
ITExLi | 2019 | ISBN: 178984374X 9781789843743 1789843731 9781789843736 1789846064 9781789846065 | 117 pages | PDF | 17 MB
This book addresses the issues related to the impact of a sustainable healthy and comfortable indoor environment on the quality of life, and perceives the required indoor conditions for productivity and effectiveness. The concepts of heating, ventilation, air conditioning, external temperature, air pollution, sick building, indoor pollutants, illumination, glare, indoor lighting, daylight, noise, construction materials, sound intensity, and furniture on the indoor environment are described in detail in this book.
A shelter is one of the physiological needs according to Maslow's Hierarchy of Needs, which lies at the bottom of the pyramid. People spend around 90% of their time in shelters, or in today's words: buildings. They sleep, eat, work, relax, exercise, play, are born, and die in these buildings. In fact, they "live" within walls. Therefore, an indoor environment is crucial for their health and safety. Thereby, this book is designed to include issues and extensive discussions on thermal comfort, indoor air quality, visual comfort, acoustic comfort, productivity, and indoor health and safety.
Contents
1.Air Quality and Airflow Characteristic Studies for Passenger Aircraft Cabins
2.Mass and Number and Its Chemical Composition Distribution of Particulate Matter in Different Microenvironments
3.Workplace Health and Its Impact on Human Capital: Seven Key Performance Indicators of Workplace Health
4.Trials for Health Promotion by Indoor Environment Modifications
5.Indoor Air Pollutants and the Future Perspectives for Living Space Design
6.Noise Calculation Charts and Indoor Environmental Quality for Evaluating Industrial Indoor Environment and Health
1st true PDF with TOC BookMarkLinks