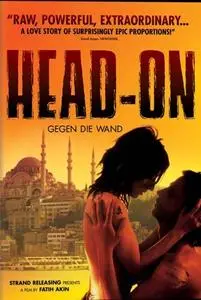 Head-On (2004)
DVDRip | MKV | 688x374 | XviD @ 1750 Kbps | 116 min | 1,79 Gb
Audio: Deutsch AC3 5.1 @ 448 Kbps | Subs: English (embedded in MKV)
Genre: Drama, Romance
Director
: Fatih Akin
Writer
: Fatih Akin (book)
Stars
: Birol Ünel, Sibel Kekilli, Güven Kiraç
In 'Gegen die Wand' Cahit, a 40-something male from Mersin in Turkey has removed everything Turkish from his life. He has become an alcoholic drug addict and at the start of the movie wants to end it all. Sibel a 20-something female from Hamburg wishes to please her Turkish parents yet yearns for freedom. She has had her nose broken by her brother for being seen holding hands with a boy and yet she can not break her mother's heart and run away. She too attempts suicide and she first approaches Cahit there at the Hospital. Sibel asks Cahit to marry her, as she believes this to be the way out of her parent's house. She promises Cahit that their relationship will be like roommates, not like a married couple. The film follows Sibel and Cahit as they get married, become closer and eventually fall in love.
Turkey premier of the movie has been held here just a few days ago but even before that all the attention was taken on the pornographic past of the lead actress neither on the golden bear nor on the success it has gained internationally (Which I hated the way media approached)… I have seen it recently and should say its a must see movie. A classic story of the 3rd generation of Turks in Germany outlined very well around a love story. Lead actor Birol and Sibel Kekilli have done a good job . The basic story takes you in and makes you feel all the sadness, craziness, happiness, joy and deep depressions of the characters. The bitterness of the reality spread all over the movie and kind of depressing. The story is also politically and socially a very good point expressing maybe thousands of peoples true lives stucked between two cultures. I would love to watch it once again. This was Sibel's first movie and I believe she will be a very good actress and wishing her luck;

I admire her posture towards all the criticism so much.
(click to enlarge)

More in My Blog