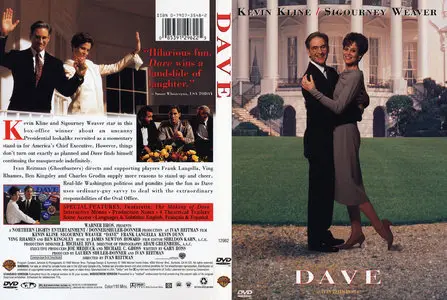 Dave (1993)
DVD5 | VIDEO_TS | NTSC, 16:9 (720x480) VBR | 01:49:48 | 4.24 Gb
Audio: AC3 2.0 @ 192 Kbps (each): English, Español, Français | Subs: English, Español, Français
Genre: Comedy
The ghost of Frank Capra must have smiled when he saw Dave, an amusing and effective update of one of Capra's favorite themes – the scrupulously honest little guy who becomes a force for good against a corrupt system. Dave Kovic (Kevin Kline) runs an employment agency and seems to genuinely enjoy finding work for people who need it. He also bears a striking resemblance to the president of the United States, Bill Mitchell (also played by Kline) and occasionally gets work as a Bill Mitchell impersonator. One day, Dave gets a call from the Secret Service – for security purposes, they want to hire him to act as a decoy for an upcoming appearance by the president. All goes well, but later that evening President Mitchell suffers a massive stroke while in bed with his mistress.