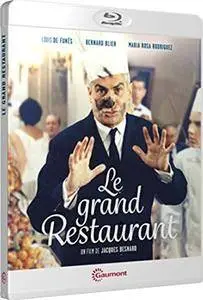 The Restaurant (1966)
BDRip | MKV | 720x308 | x264 @ 1476 Kbps | 87 min | 976 Mb
Audio: Français AAC 1.0 @ 89 Kbps | Subs: English (embedded in MKV)
Genre: Action, Comedy
M. Septime rules the renowned Paris restaurant "Chez Septime" with an iron fist. Grovelling before his rich and powerful customers, M. Septime feels free to treat his employees like children at best or like slaves at worst. M. Septime would be very happy if things just continued the way they are. But Destiny will have it otherwise. Indeed one day, Novales, a South American president, disappears while dining in his restaurant and it looks as if Septime has something to do with it.