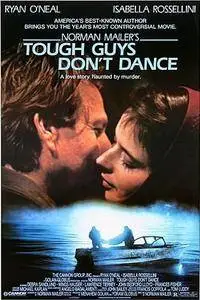 Tough Guys Don't Dance (1987)
DVDRip | MKV | 720x400 | XviD @ 2014 Kbps | English AC3 2.0 @ 192 Kbps | 109 min | 1,69 Gb
Genre: Comedy, Crime, Drama
Pulitzer Prize-winning author Norman Mailer wrote and directed this charmingly cracked nightmare comedy (Los Angeles Times) based on his best-selling 1984 novel. Set during the lonely emptiness of off-season Cape Cod, Tough Guys don't Dance features outstanding performances from Ryan O Neal and Isabella Rossellini. When wannabe writer Tim Madden (O Neal) wakes up from a memory-erasing drinking binge with an atomic hangover, he learns that it'll take more than a day to recover'since there is blood in his car and a severed head in his basement! Now, with a corrupt chief of police watching his every move, Tim must piece together the hazy events of the night before to solve a murder he mayor may nothave committed!