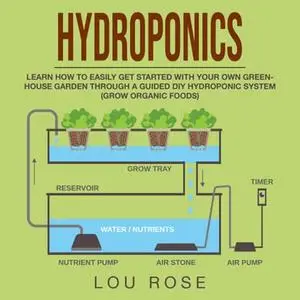 Hydroponics: Learn How to Easily Get Started with Your Own Greenhouse Garden Through a Guided DIY Hydroponic System (Grow Organic Foods) [Audiobook]
English | October 1, 2021 | ISBN: 9781667011592 | MP3@64 kbps | 3h 40m | 99.59 MB
Author: Lou Rose
Narrator: William Lytle
Are you tired of buying unfresh fruit, herbs and vegetables at the supermarket, knowing that they could be treated with pesticides and toxic chemicals? Did you notice that these foods no longer taste the way they used to? Well, this will no longer be a problem, if you follow the guidelines in this book! Discover now how to build your own hydroponic system!
Climate change is increasingly affecting our life and especially the food we consume daily. In fact, it is more and more difficult to find fresh fruit, herbs and seasonal vegetables in the supermarket.
Well, the good news is that a solution exists! Its name is Hydroponic Gardening System: a system that will allow you to grow organic food all year long, without thinking about the weather and temperature outside.
In this audiobook you'll discover How to Easily Get Started with Your Own Greenhouse Garden Through a Guided DIY Hydroponic System! Growing Organic Foods has Never Been Easier!
In particular, I will explain you:
Everything you need to know about hydroponics, how it really works and why it's important for sustainable agriculture.
The best and easier methods of hydroponic gardening you can get started with, and how to choose one suitable for your needs and gardening skill level.
Step-by-step how to set up and assemble your first hydroponic garden also if you are inexperienced.
And much, much more!
Even though you've never done an hour of gardening in your life before and would like to get started, this audiobook has everything you need to know to grow your plants at home in the easiest way possible!