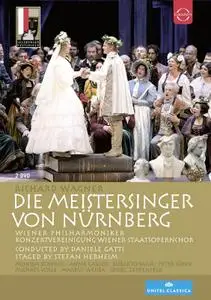 Daniele Gatti, Wiener Philharmoniker - Wagner: Die Meistersinger von Nürnberg (2014)
NTSC 16:9 (720x480) | Deutsch | LinearPCM, 2 ch | Dolby AC3, 6 ch | DTS, 6 ch | 7.73 + 7.71 Gb (2xDVD9) | 270 min
Classical | EuroArts | Sub.: English, Deutsch, Francais, Espanol, Japanese, Korean, Chinese
Stefan Herheim's idea of staging a midsummer night's dream as a fairytale narrative is enchanting and with this admirably matched ensemble of excellent singer-players, all of whom bring sharp contours to their roles, and the brilliant details of characterization make each scene an experience to cherish. This unbelievably lavish and absolutely splendid stage set radiates youthful charm and conjures up a flood of incomparable images.