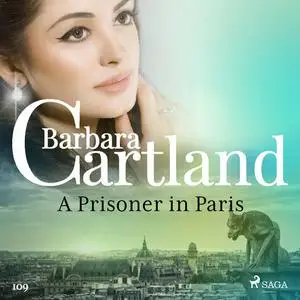 «A Prisoner in Paris (Barbara Cartland's Pink Collection 109)» by Barbara Cartland
English | MP3@192 kbps | 4h 01m | 331.2 MB
After visiting the lovely Countess of Helston as her husband is away, Lord Lanwood did not arrive home until the early hours of the morning. And after sleeping later than usual the following morning, he is ready to go riding when his valet tells him that a strange man was waiting downstairs to see him urgently. Pierre, a rough-looking, rough-speaking Frenchman gave him a letter from his nephew Charles. It said that he was being kept a prisoner until he told his captors and their patron, the scheming Comte de Roulé, how to break into Lord Lanwood's castle as they planned to steal his fabulous collection of treasures as well as his valuable paintings, including three exceptional Fragonards. The letter also said that Pierre would take Lord Lanwood to France if he pays him well to rescue Charles. Lord Lanwood has trouble understanding the Frenchman's low slang so he engages the help of the Vicar's daughter, the beautiful Isa, who is adept at languages. When they reach France, Pierre takes Isa to where Charles is imprisoned and, disguised as a nurse, she dresses his wounded shoulder each day. Between her and Lord Lanwood they devise a clever plan to rescue Charles from the French Comte and the ruffians who have imprisoned him.They ask the Comte to dine with them at their hotel and, while he is doing so, they spirit Charles away from his captors. How when they eventually return to England the story ends in great happiness both for Isa and Lord Lanwood, is told in this exciting tale by BARBARA CARTLAND.
Barbara Cartland was the world's most prolific novelist who wrote an amazing 723 books in her lifetime, of which no less than 644 were romantic novels with worldwide sales of over 1 billion copies and her books were translated into 36 different languages. As well as romantic novels, she wrote historical biographies, 6 autobiographies, theatrical plays and books of advice on life, love, vitamins and cookery. She wrote her first book at the age of 21 and it was called Jigsaw. It became an immediate bestseller and sold 100,000 copies in hardback in England and all over Europe in translation. Between the ages of 77 and 97 she increased her output and wrote an incredible 400 romances as the demand for her romances was so strong all over the world. She wrote her last book at the age of 97 and it was entitled perhaps prophetically The Way to Heaven. Her books have always been immensely popular in the United States where in 1976 her current books were at numbers 1 & 2 in the B. Dalton bestsellers list, a feat never achieved before or since by any author. Barbara Cartland became a legend in her own lifetime and will be best remembered for her wonderful romantic novels so loved by her millions of readers throughout the world, who have always collected her books to read again and again, especially when they feel miserable or depressed. Her books will always be treasured for their moral message, her pure and innocent heroines, her handsome and dashing heroes, her blissful happy endings and above all for her belief that the power of love is more important than anything else in everyone's life.