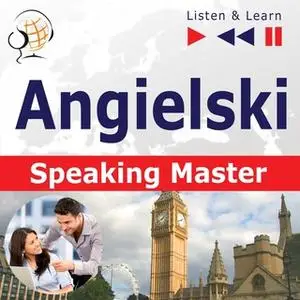 «Angielski - English Speaking Master» by Dorota Guzik
Polski | ISBN: 9788380062030 | MP3@64 kbps | 5h 00m | 137.3 MB
Chcesz udoskonalić swój styl i swobodnie rozmawiać po angielsku? Słuchaj i ucz się z kursem "English Speaking Master", który stopniowo uczy gotowych wzorców komunikacyjnych przydatnych w różnych sytuacjach – zarówno w codziennych rozmowach, jak też podczas kontaktów biznesowych czy egzaminów ustnych. Dlaczego warto wybrać kurs "English Speaking Master" Aby nabrać pewności siebie i płynnie rozmawiać w obcym języku, potrzebny jest odpowiedni zasób słów i wyrażeń stylistycznych, które sprawią, że będziesz bez stresu rozmawiać w różnych sytuacjach. Z kursem "English Speaking Master" nauczysz się ponad 600 przydatnych zwrotów obejmujących 44 tematy konwersacyjne, a zestaw 200 ćwiczeń pozwoli Ci bez trudu je opanować i utrwalić. Aby nauka nie sprawiała trudności, wszystkie wyrażenia nagrane są z tłumaczeniami. To łatwa i skuteczne nauka dla każdego! Po znajdziesz w kursie? W każdej z trzech części zdobędziesz nowe, przydatne umiejętności: Having a Conversation and Taking Part in a Discussion – nauczysz się swobodnie włączać do rozmowy, wyrażać swoje opinie, argumentować i interpretować dane; dowiesz się, jak płynnie pokierować dyskusją, dokonać wyboru czy osiągnąć kompromis. Communication Skills – nauczysz się porozumiewać w codziennych sytuacjach, stosując styl formalny lub potoczny, poznasz niezbędne wyrażenia, aby zaaranżować spotkanie, złożyć skargę, wyrażać swoje preferencje czy upodobania i wiele innych. Oral Examination Practice – nauczysz się poprawnie i płynnie odpowiadać na przykładowe pytania egzaminacyjne, poznacz typowe zadania pojawiające się na egzaminach ustnych: maturze, FCE i CAE. E-book (plik PDF) zawiera pełny tekst kursu: zwroty z tłumaczeniami, ćwiczenia sprawdzające z odpowiedziami.