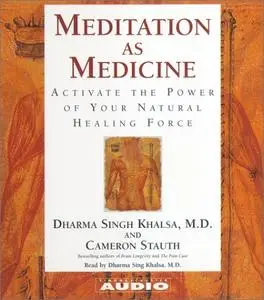 Meditation As Medicine: Activate the Power of Your Natural Healing Force [Audiobook] by Dharma Singh Khalsa M.D., Cameron Stauth
English | February 13, 2001 | ASIN: B00005AAR2 | M4B@64 kbps | 4h 26m | 121 MB
Narrator: Dharma Singh Khalsa M.D.
Imagine being able to rid yourself of a host of medical or psychological maladies without medication or psychotherapy. You can - with non-invasive medical meditation. It's proven effective and one of the most overlooked forms of therapy available today.
Backed by scientific research and presented by Dr. Dharma Singh Khalsa and Cameron Stauth, best selling authors of Brain Longevity and The Pain Cure, medical meditation ultilzes an array of remarkable techniques that revolutionize how doctors and paitents approach the healing process. Each medical meditation has a specific physiological effect, targeting afflictions from arthritis to ulcers to cancer. The clinical precision of this method is extraordinary, yet the meditations are surprisingly simple and can be done on your own, at home, at your own pace. Practiced in conjunction with conventional or alternative medical treatments, medical meditation activates the healing force within you.
Warning: This program should not be listened to while driving.