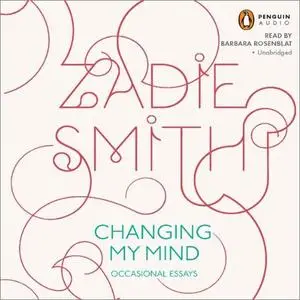 Changing My Mind: Occasional Essays [Audiobook] by Zadie Smith
English | November 12, 2009 | ASIN: B002X98JG8 | MP3 VBR@52 kbps | 12h 25m | 273 MB
Narrator: Barbara Rosenblat
Zadie Smith brings to her essays all of the curiosity, intellectual rigor, and sharp humor that has attracted so many readers to her fiction, and the result is a collection that is nothing short of extraordinary. Presented in four sections - Reading, Being, Seeing, and Feeling - Changing My Mind invites listeners to witness the world from Zadie Smith's unique vantage. Smith casts her acute eye over material both personal and cultural, with wonderfully engaging essays written over the past decade-some published here for the first time-on diverse topics including literature, movies, going to the Oscars, British comedy, family, feminism, Barack Obama, Katharine Hepburn, and Anna Magnani.
In her investigations, Smith also reveals much of herself. Her literary criticism shares the wealth of her experiences as a reader and exposes the tremendous influence the work of E. M. Forster, Zora Neale Hurston, George Eliot, and others have had on her writing life and self-understanding. Smith also speaks directly to writers as a craftsman, offering precious practical lessons on process, and encouraging readers to attend to the slippery questions of identity, art, love, and vocation.