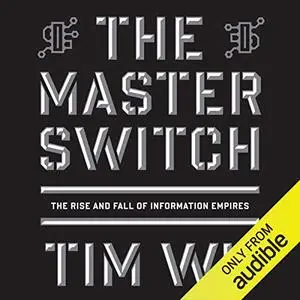 The Master Switch: The Rise and Fall of Information Empires [Audiobook]
English | ASIN: B004ADM0AG | 2010 | 14 hours and 11 minutes | MP3 32 kbps | 196 MB
Tim Wu (Author), Marc Vietor (Narrator)

A secret history of the industrial wars behind the rise and fall of the 20th century's great information empires - Hollywood, the broadcast networks, and AT&T - asking one big question: Could history repeat itself, with one giant entity taking control of American information?
Most consider the Internet Age to be a moment of unprecedented freedom in communications and culture. But as Tim Wu shows, each major new medium, from telephone to cable, arrived on a similar wave of idealistic optimism only to become, eventually, the object of industrial consolidation profoundly affecting how Americans communicate. Every once-free and open technology was in time centralized and closed, a huge corporate power taking control of the master switch. Today, as a similar struggle looms over the Internet, increasingly the pipeline of all other media, the stakes have never been higher. To be decided: who gets heard, and what kind of country we live in. Part industrial exposé, part meditation on the nature of freedom of expression, part battle cry to save the Internet's best features, The Master Switch brings to light a crucial drama rife with indelible characters and stories, heretofore played out over decades in the shadows of our national life.