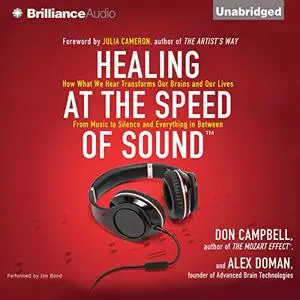 Healing at the Speed of Sound [Audiobook]
English | ASIN: B005QHSYGE | September 29, 2011 | 8 hrs and 22 mins | MP3 64 kbps | 48 MB
Don Campbell, Alex Doman (Author), Jim Bond (Narrator)

At this very moment, you are surrounded by sound. Pause for a minute and try to listen to it all: the chatter of a passing conversation, the gentle whoosh of air vents, noise from a nearby street, someone turning the pages of a book, birds chirping in the trees.We rarely pay attention to everything we hear, but every noise in our environment has the ability to change our mood, decrease our productivity, even affect our health. While sound can heal, both emotionally and physically, it can also hurt us.
In this engaging book, bestselling author and music expert Don Campbell (The Mozart Effect®) teams up with Alex Doman, a specialist in the practical application of sound, to show how we can use music and silence throughout our day to not only change how we feel but alter how we physically function. The authors delve into more than a decades' worth of research, from studies on aging to groundbreaking brain science, in order to illustrate how noise affects us for better and for worse.