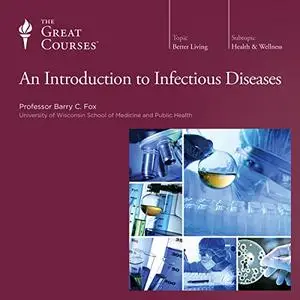 An Introduction to Infectious Diseases [TTC Audio]
English | May 01, 2015 | ASIN: B00WYR8SDI | MP3@64 kbps | 12h 40m | + PDF Guidebook | 351 MB
Lecturer: Barry C. Fox
Infectious diseases touch the lives of everyone on the planet. Whether it's something as minor as a brush with the common cold or as serious as Ebola, we all have grappled with infections and will continue to encounter them as we age.
On a worldwide scale, infectious diseases account for 26 percent of all deaths, second only to cardiovascular diseases. And unlike chronic diseases, infectious diseases are unique in their potential for explosive global impacts.
Now, in the 24 engaging lectures of Introduction to Infectious Diseases, you can get a comprehensive overview of diseases from the mundane to the fatal from renowned physician and award-winning professor Dr. Barry Fox.
Begin with an overview of the microscopic particles responsible for disease: bacteria, fungi, hybrid germs, and viruses. You will see how they invade the body; look through the microscope at pathogens to identify their inner components; follow germs through to different body systems and see what effects they have; and learn why we may be losing the battle against some germs.
Cut through the medical myths and get a solidly scientific guide to keeping yourself and your loved ones as protected as possible from pathogens, including a no-nonsense guide to vaccinations, tips on keeping a healthier home environment, and valuable advice for world travelers.
Whether you have a love for biology, a curiosity about the world's many infectious diseases, or a certain amount of trepidation about what the future holds, you will enjoy Dr. Fox's impeccable bedside manner, insider knowledge, and humorous personal stories. And, most importantly, you will be empowered to make the best choices for yourself, your loved ones, and future generations.