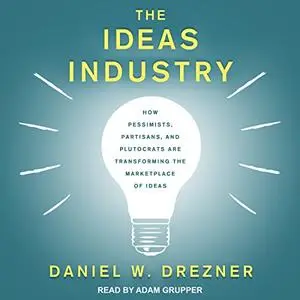 The Ideas Industry: How Pessimists, Partisans, and Plutocrats are Transforming the Marketplace of Ideas [Audiobook] by Daniel W. Drezner
English | October 31, 2017 | ASIN: B076HVJ2FY | M4B@64 kbps | 10h 58m | 299 MB
Narrator: Adam Grupper
The public intellectual, as a person and ideal, has a long and storied history. Writing in venues like the New Republic and Commentary, such intellectuals were always expected to opine on a broad array of topics, from foreign policy to literature to economics. Yet in recent years a new kind of thinker has supplanted that archetype: the thought leader. Equipped with one big idea, thought leaders focus their energies on TED talks rather than highbrow periodicals.
How did this shift happen? In The Ideas Industry, Daniel W. Drezner points to the roles of political polarization, heightened inequality, and eroding trust in authority as ushering in the change. In contrast to public intellectuals, thought leaders gain fame as single-idea merchants. Their ideas are often laudable and highly ambitious: ending global poverty by 2025, for example. But instead of a class composed of university professors and freelance intellectuals debating in highbrow magazines, thought leaders often work through institutions that are closed to the public. They are more immune to criticism - and in this century, the criticism of public intellectuals also counts for less.