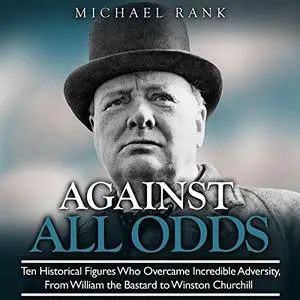 Against All Odds: Ten Historical Figures Who Overcome Incredible Adversity, from William the Bastard to Winston Churchill [Audiobook]
English | ASIN: B079C7PDRT | 2018 | 6 hours and 47 minutes | MP3@64 kbps | 186 MB
Author: Michael Rank
Narrator: Mark Rossman
From the number one best-selling author comes an exciting new look at historical figures that overcame unimaginable adversity and the inspirational stories they have left behind for us.
Whether it is household names like John Rockefeller (who became the world's first billionaire despite growing up in a log cabin with a bigamist father), Winston Churchill (a has-been politician with a stutter who became England's salvation in World War Two), William the Conqueror (the bastard child of a peasant who conquered England in 1066), or lesser-known people like James Holman (a 19th-century explorer who traveled a distance as far as the Earth to the moon despite being completely blind), each of these people achieved greatness despite the universe putting every obstacle in their way.
This audiobook looks at 10 people throughout history who rose to greatness against all odds. Some had to overcome physical challenges, such as Demosthenes, an orphaned boy in ancient Greece with a crippling speech impediment who became the greatest orator of his age. Others overcame mental challenges, such as Abraham Lincoln, whose depression was so great that in his 20s Lincoln's friends thought he would claim his own life…and continued to think so even after he became president. Still others overcame gender barriers, such as Joan of Arc, who engineered France's victory against England in the Hundred Years War despite no military experience, no powerful friends, and no ability to read.
Whatever the challenges these incredible people faced, their stories still inspire us today to stop making excuses and discover how much we can really accomplish when we rise up against life's challenges.