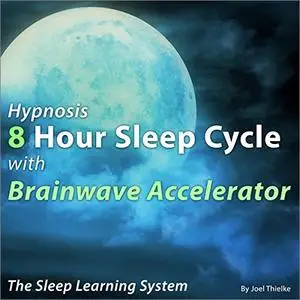 Hypnosis 8 Hour Sleep Cycle with Brainwave Accelerator: The Sleep Learning System [Audiobook] by Joel Thielke
English | May 10, 2018 | ASIN: B07CX63NS5 | M4B@64 kbps | 8 hours | 218 MB
Narrator: Joel Thielke
This 8-hour sleep program is a relaxing and soothing new meditation program that works with your sleep cycle to help you boost your brainwaves and brain power naturally.
Powerful benefits of this 8-hour program include:
Boosted brain power
Better memory
Improved focus
Confidence
Positive thinking
Deep, restful sleep through the night
Deeper relaxation for your body and mind
Just start listening to this 8-hour program when you're ready for bed and get comfortable to fall asleep. In the first two hours, you'll drift off to sleep with our Luxurious Deep Sleep Induction, which will relax your body and mind and prepare for rejuvenating REM sleep.
Then approximately two hours into your program when your REM cycle starts, the Brainwaves Accelerator boosting track will gently play, helping stimulate your memory and brain function.
The next 4 hours of the program contain subconscious deepening and anchoring points that work with your brain waves to keep you deeply relaxed, helping you get the most use out of your brain power.
At the end of the program, we will bring you out of your deep sleep with a gentle wake ending count up and positive suggestions for a great day.