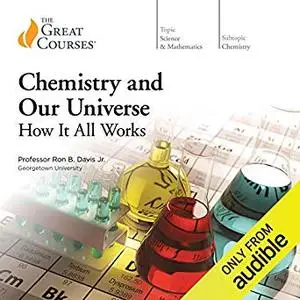 Ron B. Davis (Author, Narrator), The Great Courses, "Chemistry and Our Universe: How It All Works"
ASIN: B07Q8YLWBZ | 2019 | M4B@64 kbps | ~30:06:00 | 856 MB
Our world is ruled by chemistry. It is the study of matter and energy at the scale of atoms and molecules. As the most all-embracing discipline there is, it should be at the top of everyone's list of must-learn subjects.
Chemistry and Our Universe: How It All Works is your in-depth introduction to this vital field, taught through 60 engaging half-hour lectures that are suitable for any background or none at all. Covering a year's worth of introductory general chemistry at the college level, plus intriguing topics that are rarely discussed in the classroom, this amazingly comprehensive course requires nothing more advanced than high-school math. Your guide is Professor Ron B. Davis, Jr., a research chemist and award-winning teacher at Georgetown University.
With passion and humor, Professor Davis guides you through the fascinating world of atoms, molecules, and their remarkable interactions, showing you how to think, analyze problems, and predict outcomes like a true expert in the field.
PLEASE NOTE: When you purchase this title, the accompanying PDF will be available in your Audible Library along with the audio.