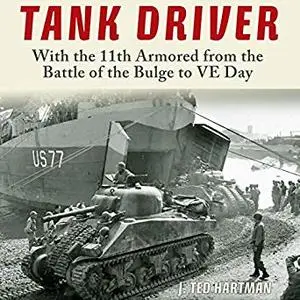 J. Ted Hartman, J. Scott Bennett (Narrator), "Tank Driver: With the 11th Armored from the Battle of the Bulge to VE Day"
ASIN: B07VFBBGNR | 2019 | MP3@96 kbps | ~06:23:00 | 275 MB
Tank Driver is the story of a young man's combat initiation in World War II. Based on letters home, the sparse narrative has the immediacy of on-the-spot reporting. Ted Hartman was a teenager when he was sent overseas to drive a Sherman tank into combat to face the desperate German counterattack known as the Battle of the Bulge. Hartman gives a riveting account of the shifting tides of battle and the final Allied breakout. He tells about the concentration camps, the spectacle of the defeated Germans, and the dramatic encounter with Russian soldiers in Austria that marked combat's end. This is a vivid, personal account of some of the most dramatic fighting of World War II.
The book is published by Indiana University Press. The audiobook is published by University Press Audiobooks.
"A well-balanced, often moving look at one man's war and every man's war." (World War II)