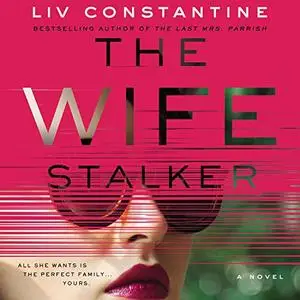 The Wife Stalker: A Novel [Audiobook]
English | ASIN: B07WNR9V8M | May 19, 2020 | 8 hrs and 39 mins | MP3@64 kbps | 238 MB
Liv Constantine (Author), Julia Whelan, Meghan Wolf (Narrator)

The best-selling author of The Last Mrs. Parrish returns with a psychological thriller, filled with chilling serpentine twists, about a woman fighting to hold onto the only family she's ever loved - and how far she'll go to preserve it.
Named one of the most anticipated thrillers of the year by Goodreads, Bustle, SheReads, and Library Journal
Breezing into the tony seaside paradise of Westport, Connecticut, gorgeous 30-something Piper Reynard sets down roots, opening a rehab and wellness space and joining a local yacht club. When she meets Leo Drakos, a handsome, successful lawyer, the wedding ring on his finger is the only thing she doesn't like about him. Yet as Piper well knows, no marriage is permanent.
Meanwhile, Joanna has been waiting patiently for Leo, the charismatic man she fell in love with all those years ago, to re-emerge from the severe depression that has engulfed him. Though she's thankful when Leo returns to his charming, energetic self, paying attention again to Evie and Stelli, the children they both love beyond measure, Joanna is shocked to discover that it's not her loving support that's sparked his renewed happiness - it's something else. Piper. Leo has fallen head over heels for the flaky, New Age-y newcomer, and unrepentant and resolute, he's more than willing to leave Joanna behind, along with everything they've built. Of course, he assures her, she can still see the children.