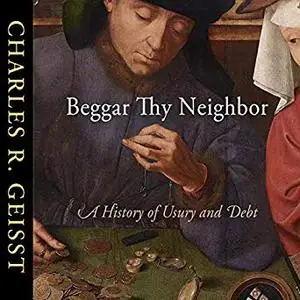 Charles R. Geisst, Maxwell Zener (Narrator), "Beggar Thy Neighbor: A History of Usury and Debt"
ASIN: B07WPXYG3N | 2019 | M4B@128 kbps | ~17:59:00 | 989 MB
The practice of charging interest on loans has been controversial since it was first mentioned in early recorded history. Lending is a powerful economic tool, vital to the development of society but it can also lead to disaster if left unregulated. Prohibitions against excessive interest, or usury, have been found in almost all societies since antiquity. Whether loans were made in kind or in cash, creditors often were accused of beggar-thy-neighbor exploitation when their lending terms put borrowers at risk of ruin. While the concept of usury reflects transcendent notions of fairness, its definition has varied over time and place: Roman law distinguished between simple and compound interest, the medieval church banned interest altogether, and even Adam Smith favored a ceiling on interest.
In Beggar Thy Neighbor, financial historian Charles R. Geisst tracks the changing perceptions of usury and debt from the time of Cicero to the most recent financial crises. This comprehensive economic history looks at humanity's attempts to curb the abuse of debt while reaping the benefits of credit. It examines the major debt revolutions of the past, demonstrating that extensive leverage and debt were behind most financial market crashes from the Renaissance to the present day.
The book is published by University of Pennsylvania Press.