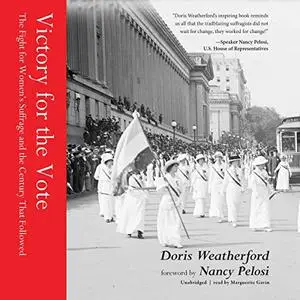 Victory for the Vote: The Fight for Women's Suffrage and the Century that Followed [Audiobook]
English | ASIN: B081SBG5SW | February 18, 2020 | 13 hrs and 28 mins | MP3@64 kbps | 370 MB
Doris Weatherford, Nancy Pelosi - foreword (Author), Marguerite Gavin (Narrator)

An inspirational gift for women
In her book Victory for the Vote, women's history expert Doris Weatherford offers an engaging and detailed narrative history of women's seven-decade fight for the vote, and the continuing current-day struggle for human rights and equality.
Foreword by Speaker of the House Nancy Pelosi
Victory for the Vote puts the fight for suffrage into contemporary context by discussing key challenges for women in the decades that followed 1920, such as reproductive rights, the Equal Rights Amendment, and political power.
Celebrate the centennial of women's right to vote in the US
Victory for the Vote is an expansion and update of Doris Weatherford's A History of the American Suffragist Movement, published in 1998 in honor of the 150th anniversary of the 1848 Seneca Falls Convention, considered to be the beginning of the women's rights movement in the United States.