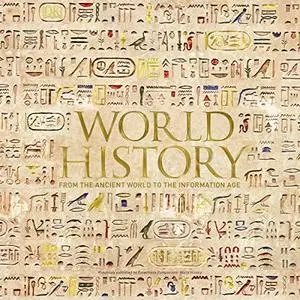 Philip Parker, Joan Walker (Narrator), "World History: From the Ancient World to the Information Age"
English | ASIN: B082P69BPS | 2019 | MP3@64 kbps | ~12:52:00 | 364 MB
A truly global view of history covering over 350 of the world's most important turning points. This is an essential audiobook for every history buff.
World History is the most accessible guide to the history of human civilization, covering the Neanderthals, the Assyrian Empire, Chinese dynasties, Vikings, World War I, apartheid, the rise of ISIS, and everything in between. This remarkable audiobook offers the most up-to-date coverage of global history, up to and including the Arab Spring, global terror, Russia and Ukraine, and the rise of populism in the EU.
Historical moments and movements from across the globe are brought to life. Follow humanity's journey and discover all the key thinkers, leaders, ideas, and inventions that shaped the modern world.
Joan Walker has narrated over 150 audiobooks as well as appearing in over 500 plays on BBC radio. Joan has won awards for her voiceover work, including the Golden Earphones from AudioFile USA plus the American Library Journal Best Audio of 2016, and narrated an array of documentaries, created voices for animations and video games and is the voice of audio guides in some of the greatest art galleries and museums in the world.