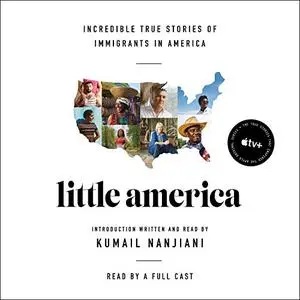 Little America [Audiobook]
English | ASIN: B082XJ3L4X | March 17, 2020 | 4 hrs and 4 mins | MP3 64 kbps | 111 MB
Epic, Kumail Nanjiani - foreword (Author)

"Given how much we loved the TV mini-series version of Little America, it's only natural that we're jumping at the chance to cry even more with this new audiobook collecting the true stories that inspired the Apple Original Series…. Stock up on tissues for this must-listen audiobook." (Paste)
From the pages of Epic magazine come the true stories that inspired the Apple Original Series.
This program includes a foreword written and read by Kumail Nanjiani
Nearly everyone in America came from somewhere else. This is a fundamental part of the American idea - an identity and place open to everyone. People arrive from all points distant, speaking 1,000 languages, carrying every culture, each with their own reason for uprooting themselves to try something new.
Everyone has their own unique story. Little America is a collection of those stories, told by the people who lived them. Together, they form a wholly original, at times unexpected portrait of America's immigrants - and thereby a portrait of America itself.
This program is read by Kumail Nanjiani, Vikas Adam, Ramon de Ocampo, Je Nie Fleming, Matt Godfrey, Lamarr Gulley, Deepti Gupta, Vanessa Marroquin, Natalie Naudus, and Natasha Soudek.