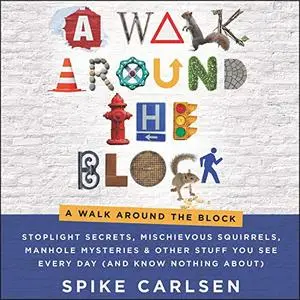 A Walk Around the Block: Stoplight Secrets, Mischievous Squirrels, Manhole Mysteries & Other Stuff You See Every Day [Audiobook]
English | ASIN: B0844QLKF2 | 2020 | 9 hours and 12 minutes | MP3 64 kbps | 236 MB
Spike Carlsen (Author), Daniel Henning (Narrator)

A simple walk around the block set journalist Spike Carlsen, best-selling author of A Splintered History of Wood, off to investigate everything he could about everything we take for granted in our normal life — from manhole covers and recycling bins to bike lanes and stoplights.
In this celebration of the seemingly mundane, Carlsen opens our eyes to the engineering marvels, human stories, and natural wonders right outside our front door. He guides us through the surprising allure of sewers, the intricacies of power plants, the extraordinary path of an everyday letter, and the genius of recycling centers — all the while revealing that this awesome world isn't just a spectator sport. Engaging as it is endearing, A Walk Around the Block will change the way you see things in your everyday life.
Join Carlsen as he strolls through the trash museum of New York City, explores the quirky world of squirrels, pigeons, and roadkill, and shows us how understanding stoplights, bike lanes, and fine art of walking can add years to our lives. In the end, he brings a sense of wonder into your average walk around the block, wherever you are. Guaranteed.