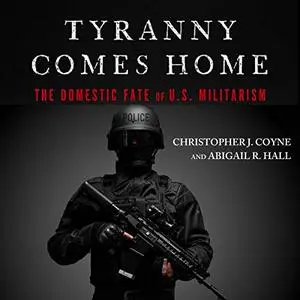 Tyranny Comes Home: The Domestic Fate of U.S. Militarism [Audiobook] by Christopher J. Coyne, Abigail R. Hall
English | February 06, 2020 | ASIN: B084JC1DX2 | M4B@128 kbps | 8h 39m | 472 MB
Narrator: Gary Roelofs
Many Americans believe that foreign military intervention is central to protecting our domestic freedoms. But Christopher J. Coyne and Abigail R. Hall urge engaged citizens to think again. Overseas, our government takes actions in the name of defense that would not be permissible within national borders. Emboldened by the relative weakness of governance abroad, the US government is able to experiment with a broader range of social controls.
Under certain conditions, these policies, tactics, and technologies are then re-imported to America, changing the national landscape and increasing the extent to which we live in a police state. Coyne and Hall examine this pattern - which they dub "the boomerang effect" - considering a variety of rich cases that include the rise of state surveillance, the militarization of domestic law enforcement, the expanding use of drones, and torture in US prisons. Synthesizing research and applying an economic lens, they develop a generalizable theory to predict and explain a startling trend.
Tyranny Comes Home unveils a new aspect of the symbiotic relationship between foreign interventions and domestic politics. It gives us alarming insight into incidents like the shooting in Ferguson, Missouri, and the Snowden case - which tell a common story about contemporary foreign policy and its impact on our civil liberties.