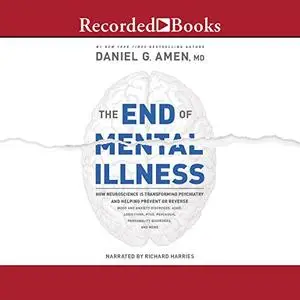 The End of Mental Illness [Audiobook]
English | ASIN: B085TQW777 | 2020 | 13 hours and 37 minutes | MP3 64 kbps | 375 MB
Daniel G. Amen (Author), Richard Harries (Narrator)

New hope for those suffering from conditions like depression, anxiety, bipolar disorder, addictions, PTSD, ADHD, and more.
Though incidence of these conditions is skyrocketing, for the past four decades standard treatment hasn't much changed, and success rates in treating them have barely improved, either. Meanwhile, the stigma of the "mental illness" label - damaging and devastating on its own - can often prevent sufferers from getting the help they need.
Brain specialist and best-selling author Dr. Daniel Amen is on the forefront of a new movement within medicine and related disciplines that aims to change all that. In The End of Mental Illness, Dr. Amen draws on the latest findings of neuroscience to challenge an outdated psychiatric paradigm and help listeners take control and improve the health of their own brain, minimizing or reversing conditions that may be preventing them from living a full and emotionally healthy life.