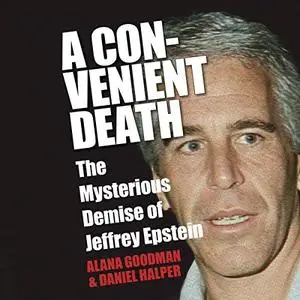 A Convenient Death [Audiobook]
English | ASIN: B086Z3WB9R | 2020 | 6 hours and 34 minutes | MP3 64 kbps | 181 MB
Alana Goodman, Daniel Halper (Author), Maggi-Meg Reed (Narrator)

A must-listen for fans of the Netflix docuseries Filthy Rich: The full investigation of the shocking death of billionaire Jeffrey Epstein and those powerful enough to have orchestrated it.
In A Convenient Death, investigative reporters Alana Goodman and Daniel Halper search for the truth of what really happened to Jeffrey Epstein. With access to Epstein's victims and lawyers, to doctors, Wall Street insiders, and law enforcement officers, they reveal the dirty secrets and sinister ties that may have driven someone in Epstein's circle to take matters into their own hands.
On the morning of August 10, 2019, Epstein, friend and financier to the rich and powerful, was found unresponsive in his prison cell in lower Manhattan, where he awaited his second trial for sexual predation and other crimes. He was rushed to a local hospital and one hour later pronounced dead by suicide. Across the world, a sinister web of powerful billionaires, celebrities, and politicians, including Bill and Hillary Clinton, had reason to sigh with relief at news of Epstein's death. Having flown on his private planes and visited his many homes - the sites of so many illicit activities - they had much to lose if their transgressions were ever exposed. And now, Epstein was silenced for good.