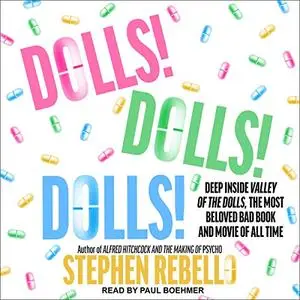 Dolls! Dolls! Dolls! [Audiobook]
English | ASIN: B088MLH35J | 2020 | 12 hours and 32 minutes | MP3 64 kbps | 346 MB
Stephen Rebello (Author), Paul Boehmer (Narrator)

Since its publication in 1966, Jacqueline Susann's Valley of the Dolls has reigned as one of the most influential and beloved pieces of commercial fiction. Selling over 31 million copies worldwide, it revolutionized overnight the way books got sold, thanks to the tireless and canny self-promoting Susann. Turned in 1967 into an international box-office sensation and morphing into a much-beloved cult film, its influence endures today in everything from films and TV shows to fashion and cosmetics tributes and tie-ins.
Dolls! Dolls! Dolls! digs deep into the creation of that hugely successful film - a journey nearly as cut-throat, sexually charged, tragic, and revelatory as Susann's novel itself - and uncovers how the movie has become a cherished, widely imitated camp classic, thanks to its over-the-top performances, endlessly quotable absurd dialogue, outre costumes and hairdos, despite the high aspirations, money, and talent lavished on it.