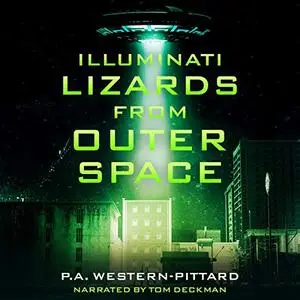 Illuminati Lizards from Outer Space [Audiobook]
English | May 18, 2020 | ASIN: B088P2BR7Q | M4B@64 kbps | 4h 16m | 139 MB
Author: P.A. Western-Pittard | Narrator: Tom Deckman
Do you, sometimes, feel like your life is weird?
Tina Lyons, a beauty contestant, is cheated out of first place and forced into rehab, run by a bunch of undercover lizard-aliens hellbent on colonizing the world. Believing them to be patients just like her, Tina decides to help these incompetent conquerors the only way she knows how - with a beauty pageant!
As Tina's anti-beauty pageant becomes a roaring success, and humanity is seduced by the irresistibly sexy lizard invaders, Tina must question what it is to be human. And also whether she's taken one too many happy pills.
In the style of zany B-movies, Illuminati Lizards from Outer Space is a quirky, sci-fi romp that answers the question: Is there intelligent alien life amongst us?
Silly and lively, this sci-fi comedy will have you smiling long after you've finished listening to the book.