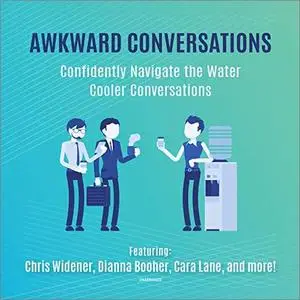 Awkward Conversations: Confidently Navigate the Water Cooler Conversations [Audiobook]
English | June 09, 2020 | ASIN: B088P8JCW1 | MP3@64 kbps | 7h 10m | 197 MB
Authors: Dr. Tony Alessandra, Dianna Booher, Chris Widener, Cara Lane, Pamela Jett, Audrey Nelson | Narrators: Various Narrators
Do you do everything in your power to avoid having hard or awkward conversations?
First off, you're not alone. I'm sure most of us have turned to walk the other way when we spot someone with whom we need to have a tough chat! However, we're here to tell you there is a better way.
Awkward Moments is a compilation of audio programs designed to help you navigate situations that used to make you cringe. You'll learn how to:
Manage conflict and turn it around for a positive outcome
Deal with difficult people
Use body language and vocal intonation to your advantage
Be assertive in tough conversations and circumstances
Talk to anyone, anytime, anywhere
If you want to learn from seasoned professionals and gain wisdom, insight, and tools to help you effectively navigate the "water cooler" of awkward conversation, look no further. It's time to move from timid and uncertain to assertive and confident.