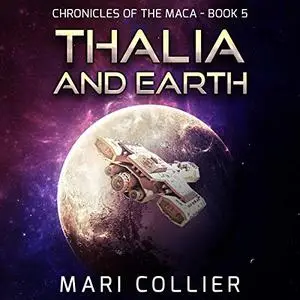 Thalia and Earth: Chronicles of the Maca, Book 5 [Audiobook]
By Mari Collier
English | June 08, 2020 | ASIN : B089Q7YDM7 | 8 hours and 22 minutes | MP3 @ 64 kbps | 233 MB
Narrator : David Loving
A new force has awakened in the galaxy.
Thalia has defeated the Justines, the Krepyons, and the Sisterhood. After claiming his Earth son Lorenz, the Maca of Don returns to Earth for a family reunion.
But the planet has changed. Iit's the 1970s, and one of their family members is trying to dismantle their business. Another has killed four men, and the doctors are beginning to suspect that there's something strange about the MacDonald family.
Meanwhile, the newer members of the MacDonald and Rolfe clans are unaware of their alien heritage and abilities, and General MacDonald is carrying a heavy secret of other alien beings.
Soon after their arrival, the Maca of Don and Lorenz learn that there is a new presence in the galaxy - one bent on conquest and destruction.