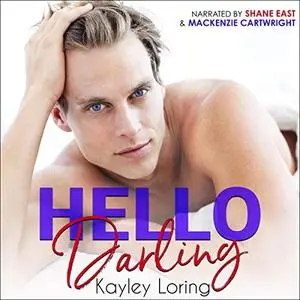 Hello Darling [Audiobook]
English | ASIN: B08BCT367J | July 02, 2020 | 7 hrs and 23 mins | MP3@64 kbps | 203 MB
Kayley Loring (Author), Shane East, Mackenzie Cartwright (Narrator)

Millions of women all over the world would drop their knickers for British movie star Evan Hunter. Now he's falling for the one American woman who won't…yet.
Everyone on Main Street has been talking about Evan Hunter, the British movie star who'll be filming on location in our small Pacific Northwest town for a couple of months, and all I have to say about that is: "Who?"
When he shows up two weeks early to escape the London paparazzi after breaking up with some starlet, all I want to know is: "So?"
When he walks into the gym that I manage for my dad and brothers, to start training for the action scenes in his movie, I'll admit I do say to myself: "Hmmm…"
But he's not my type. I'll take a fireman or a lumberjack over a pretty actor any day - I don't care how blue his eyes are, how chiseled his features or how crackling our chemistry has been from the first "hello."
Okay, so it turns out Mr. Charming and Sophisticated isn't quite the polite English gentleman when we're alone together in private. He may, in fact, be a filthy-mouthed sex god. He may, impossibly, have his sights set on me.