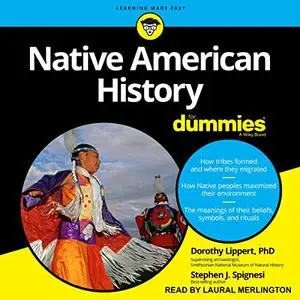 Native American History for Dummies [Audiobook]
English | ASIN: B08C3W7ZVW | July 21, 2020 | 13 hrs and 43 mins | MP3@64 kbps | 377 MB
Dorothy Lippert PhD, Stephen J. Spignesi (Author), Laural Merlington (Narrator)

Call them Native Americans, American Indians, indigenous peoples, or first nations - a vast and diverse array of nations, tribes, and cultures populated every corner of North America long before Columbus arrived. Native American History for Dummies reveals what is known about their pre-Columbian history and shows how their presence, customs, and beliefs influenced everything that was to follow.
This straightforward guide breaks down their 10,000-plus year history and explores their influence on European settlement of the continent. You'll gain fresh insight into the major tribal nations, their cultures and traditions, warfare and famous battles; and the lives of such icons as Pocahontas, Sitting Bull, and Sacagawea.
You'll discover:
How and when the Native American's ancestors reached the continent
How tribes formed and where they migrated
What North America was like before 1492
How Native peoples maximized their environment
Pre-Columbian farmers, fishermen, hunters, and traders