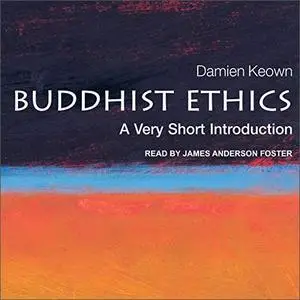 Buddhist Ethics: A Very Short Introduction [Audiobook] by Damien Keown
English | September 01, 2020 | ASIN: B08G1WXV9L | MP3@128 kbps | 3h 46m | 207 MB
Narrator: James Anderson Foster
With more than 520 million followers, Buddhism is now the world's fourth largest religion. Over the last 70 years or so, there has been a growing interest in Buddhism, and it continues to capture the imagination of many in the West, who see it as either an alternative or a supplement to their own religious beliefs.
For complex cultural and historical reasons, ethics has not received as much attention in traditional Buddhist thought as it has in the West. In this Very Short Introduction audiobook, Damien Keown explores how Buddhism approaches a range of moral issues of our age, including our relationship with our environment, our treatment of animals, and our stance on abortion, on sexuality and gender, on violence and war. This new edition also includes a discussion of the ethical challenges posed by cutting-edge developments in science and biomedical technologies, including neuroscience, artificial intelligence, transhumanism, and gene editing.