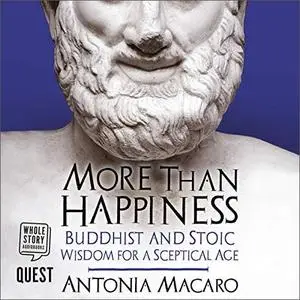 More than Happiness: Buddhist and Stoic Wisdom for a Sceptical Age [Audiobook]
English | September 24, 2020 | ASIN: B08HVSLY8Q | M4B@128 kbps | 5h 28m | 298 MB
Author: Antonia Macaro | Narrator: Jilly Bond
How can we achieve more than happiness?
In More than Happiness, Antonia Macaro delves into both philosophies, focusing on the elements that fit with our sceptical age and those which have the potential to make the biggest impact on how we live. From accepting that some things are beyond our control, to monitoring our emotions for unhealthy reactions, to shedding attachment to material things, there is much, she argues, that we can take and much that we'd do better to leave behind. In this synthesis of ancient wisdom, Macaro reframes the 'good life' and gets us to see the world as it really is, and to question the value of the things we desire. The goal is more than happiness: living ethically and placing value on the right things in life.