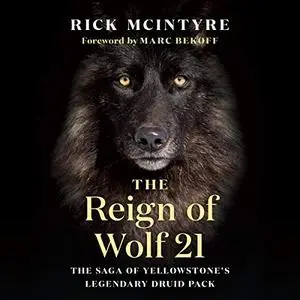 The Reign of Wolf 21: The Saga of Yellowstone's Legendary Druid Pack (The Alpha Wolves of Yellowstone Series, Book 2) [Audiobook] by Rick McIntyre
English | October 15, 2020 | ASIN: B08KYHZ6NC | M4B@64 kbps | 6h 41m | 179 MB
Narrator: Geoff Sugiyama
The breathtaking firsthand account of two Yellowstone wolves and their remarkable bond.
Wolf 21 and Wolf 42 were attracted to each other the moment they met in Yellowstone Park - but Wolf 42's jealous sister hindered their relationship. After an explosive insurrection within the pack, the two wolves came together at last as alpha male and alpha female of the Druids, the most successful wolf pack in Yellowstone history. Rick McIntyre recounts their fascinating love story with compassion and a keen eye for detail, drawing on his many years of experience observing Yellowstone wolves in the wild. This remarkable work of science writing offers unparalleled insight into wolf behavior and Yellowstone's famed wolf reintroduction project.