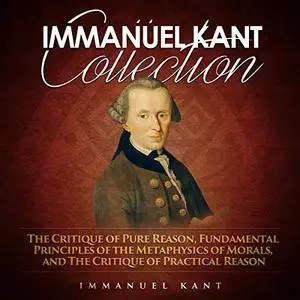 Immanuel Kant Collection: The Critique of Pure Reason, Fundamental Principles of the Metaphysics of Morals, and The Critique of Practical Reason [Audiobook]
English | November 05, 2020 | ASIN: B08MRP1PFG | MP3@64 kbps | 30h 2m | 825 MB
Author: Immanuel Kant | Narrator: Gregory T. Luzitano
Explore the ultimate collection of Immanuel Kant's most famous works.
From a gripping exploration of morality to a deep dive into theoretical reasoning and metaphysics, the philosophy of Immanuel Kant has stood the test of time and made him one of the most famous and influential philosophers of the 18th century. Now, this brilliant collection compiles his writings for modern listeners, a testament to the lasting influence of his ideas and inspirations.
Whether you want to examine the profound ideas behind his framework for morality, question the nature of logic and the way we view the world, or open your mind to the possibilities of the metaphysical, this book lets you see Immanuel Kant's philosophy as it evolves over the course of his life and career.
Inside this collection, you'll find:
Critique of Pure Reason, offering an enlightening examination of metaphysics, reason, and rationalism
Fundamental Principles of The Metaphysic of Morals, in which Immanuel Kant builds a powerful groundwork for moral theory and the ideas surrounding ethics
Critique of Practical Reason, an exploration of theoretical reasoning and a foundation of 18th-century moral philosophy
Perfect for fans of other influential philosophers including John Locke, David Hume, and Christian Wolff, this collection serves to help you discover the enduring legacy of Immanuel Kant's work, along with why his writings have inspired and enlightened countless philosophers over the last two centuries.