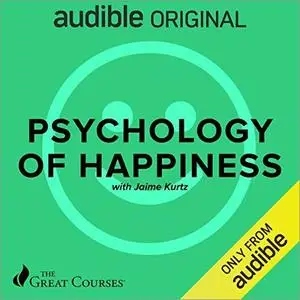 The Psychology of Happiness [TTC Audio]
English | January 19, 2021 | ASIN: B08S93V7FZ | M4B@128 kbps | 4h 48m | 261 MB
Lecturer: Jaime Kurtz
Despite being discussed, questioned, philosophized about, and sought after since the days of Aristotle, the pathways to happiness are not always clear…but there is one. In order to find it, you need a solid foundation for understanding what really makes us - as humans - happy. And that's exactly what you will gain by learning what science has to say about the big questions of happiness and thriving.
Throughout 10 lectures, Professor Jaime Kurtz will outline the physical and emotional benefits that a boost in happiness can bring you. Professor Kurtz will invite you to access those benefits with a range of science-based strategies that you can choose from - strategies that will help you create more happiness in your everyday life. As you examine the effect of both the tools and challenges to being happy, including mindfulness, exercise, nature, social media, money, and more, you'll gain practical knowledge - useful things that you can start practicing in your life, immediately. You'll also take away a deep understanding and appreciation of what is gained when we take an elusive concept such as happiness and examine it through the lens of science.
There's no one-size-fits-all approach when it comes to boosting your happiness - it depends heavily on genetics among other factors, but by learning some new behaviors and actions that you can intentionally choose for yourself, you'll find you are able to make real, lasting changes in both your daily life and in your overall levels of happiness.