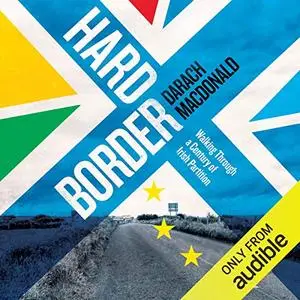 Hard Border: Walking Through a Century of Partition [Audiobook]
English | ASIN: B08W5DXR9D | 2021 | 16 hours and 33 minutes | MP3@128 kbps | 852 MB
Author: Darach MacDonald
Narrator: John O'Mahony
Hard Border goes to the very roots of the Irish boundary where, after decades of division and conflict, a fragile peace has prevailed since the Good Friday Agreement of 1998.
Post-Brexit, it will re-emerge as the only land frontier between the United Kingdom and the European Union. In his travelogue of the abandoned 50-mile route along the Ulster Canal, Darach MacDonald presents a close-up narrative history of Ireland. On his journey through five of Ulster's nine counties, he looks at the confounding realities and identities brought to the boil by history, geography, politics and faith.
He traces the region's pivotal role in the story of Ireland; the facts and anomalies of an arbitrary partition, the impact on local communities, especially among minorities marooned on the wrong side, as well as uplifting efforts to forge new links and aid the recovery from trauma.
Through travelogues, journals, tales and poetry, he examines how the border and its communities have been portrayed through the decades. Above all, these are the stories of tightly knit communities straddling an historically contested line while struggling for survival and recognition in its liminal shadows.