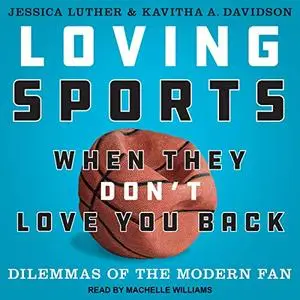 Loving Sports When They Don't Love You Back: Dilemmas of the Modern Fan [Audiobook]
English | April 13, 2021 | ASIN: B091D7SVSH | M4B@128 kbps | 10h 39m | 591 MB
Authors: Jessica Luther, Kavitha A. Davidson | Narrator: Machelle Williams
Triumphant wins, gut-wrenching losses, last-second shots, underdogs, competition, and loyalty - it's fun to be a fan. But when a football player takes a hit to the head after yet another study has warned of the dangers of CTE, or when a team whose mascot was born in an era of racism and bigotry takes the field, or when a relief pitcher accused of domestic violence saves the game, how is one to cheer? Welcome to the club for sports fans who care too much.
In Loving Sports When They Don't Love You Back, acclaimed sports writers Jessica Luther and Kavitha A. Davidson tackle the most pressing issues in sports, why they matter, and how we can do better. For the authors, "sticking to sports" is not an option - not when our taxes are paying for the stadiums, and college athletes aren't getting paid at all. But simply quitting a favorite team won't change corrupt and deplorable practices, and the root causes of many of these problems are endemic in our wider society. Essential for modern fans, Loving Sports When They Don't Love You Back challenges the status quo and explores how we might begin to reconcile our conscience with our fandom.