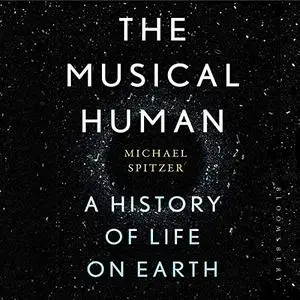 The Musical Human: A History of Life on Earth [Audiobook]
English | April 13, 2021 | ASIN: B091J4S6HJ | MP3@128 kbps | 17h 18m | 959 MB
Author: Michael Spitzer | Narrator: Daniel Levitin
A colossal history spanning cultures, time and space to explore the vibrant relationship between music and the human species.
One hundred and sixty-five million years ago saw the birth of rhythm.
Sixty-six million years ago was the first melody.
Forty thousand years ago Homo sapiens created the first musical instrument.
Today music fills our lives. How we have created, performed and listened to this music throughout history has defined what our species is and how we understand who we are. Yet music is an overlooked part of our origin story. The Musical Human takes us on an exhilarating journey across the ages - from Bach to BTS and back - to explore the vibrant relationship between music and the human species. With insights from a wealth of disciplines, world-leading musicologist Michael Spitzer renders a global history of music on the widest possible canvas, looking at music in our everyday lives; music in world history; and music in evolution, from insects to apes, humans to AI. Through this journey we begin to understand how music is central to the distinctly human experiences of cognition, feeling and even biology, both widening and closing the evolutionary gaps between ourselves and animals in surprising ways.
The Musical Human boldly puts the case that music is the most important thing we ever did; it is a fundamental part of what makes us human.