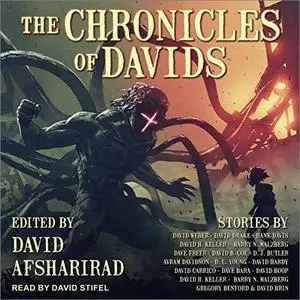 The Chronicles of Davids [Audiobook]
English | April 20, 2021 | ASIN: B0929CNMM8 | M4B@128 kbps | 12h 16m | 681 MB
Editor: David Afsharirad | Narrator: David Stifel
Stories with maximum Dave!
The history of science fiction and fantasy is filled with stories by what we like to call "Davids of Distinction". Now, for the first time, an anthology by people named David, for everyone. Even if your name is anything but David!
Listen along as editor David Afsharirad guides you through the strange, wonderous imaginations of the great Davids of the field, past, present, and future. Fifteen tales by David Weber, David Drake, Gregory Benford and David Brin, David B. Coe, D. J. Butler, Avram Davidson, David H. Keller, and many more. Many more Davids, that is.
A Depression-era magic man comes face-to-face with an ancient evil. A once-promising filmmaker's fate depends on a movie-producing AI. A shape-shifting detective trails a pack of werewolves. A sentient tank must confront one of its own. And a diner regular gets more than he bargained for when he orders the very odd soup du jour. These and more.