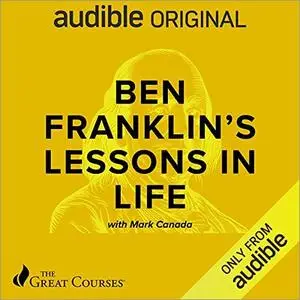 Ben Franklin's Lessons in Life [TTC Audio]
English | July 20, 2021 | ASIN: B0992MJY2P | M4B@128 kbps | 4h 27m | 243 MB
Lecturer: Mark Canada
How did a young tradesman in early 18th-century Philadelphia with no money, no connections, and no formal education end up as a leading scientist, an inventor, a master diplomat - and even a Founding Father of the United States of America?
He used the same resource we have inside ourselves: a capacity for self-improvement.
Building a better life through conscious, strategic effort was the essence of who Benjamin Franklin was. An embodiment of the Enlightenment ethos, he had an astonishing ability to set and achieve goals that led not only to personal success, but also to everything that helped to transform America - and the world.
With bona fides like those, who wouldn't want to follow Franklin's advice?
In Ben Franklin's Lessons in Life, you'll learn how to use Franklin's strategies to achieve success in your own life and to serve your fellow human beings. Using his own reflections and experiences, Mark Canada discusses many of Franklin's lessons, which include living with purpose, educating oneself, communicating effectively, maintaining a positive outlook, leveraging others' strengths, and crafting an image to meet your ends. Even if you don't have any aspirations of taming lightning or founding a new nation, this Audible Original will help empower you to improve your life, achieve your full potential, and make lasting contributions to society.
We think Franklin would approve.