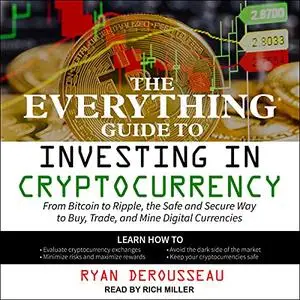 Ryan Derousseau, Rich Miller (Narrator), "The Everything Guide to Investing in Cryptocurrency: From Bitcoin to Ripple, the Safe and Secure Way to Buy, Trade, and Mine Digital Currencies"
English | ASIN: B09DM1F88X | 2021 | MP3@64 kbps | ~08:54:00 | 252 MB
Cryptocurrency - a digital asset that uses cryptography to secure all of its transactions, making it nearly impossible to counterfeit - is moving into the mainstream, receiving coverage from major financial websites such as Forbes and Bloomberg, as well as increased attention from serious financial institutions, and experiencing wider availability in trusted markets, such as the world's largest futures exchange, Chicago Mercantile Exchange.
As the price of Bitcoin and other cryptocurrencies continue to fluctuate and news stories of cryptocurrency hackers increase, investors have to be more conscious of the huge opportunities and large risks in this market. Understanding these risks and rewards of cryptocurrency is vital for everyone wanting to make money on this exciting new form of investing.
The Everything Guide to Investing in Cryptocurrency is an authoritative and comprehensive guide to help you safely jump into the lucrative world of e-commerce. You'll learn:
The different major cryptocurrencies, including Bitcoin, litecoin, and Ethereum
Where to buy and sell cryptocurrencies safely and securely
How to set up and manage your cryptocurrency wallet
How to properly analyze their investments