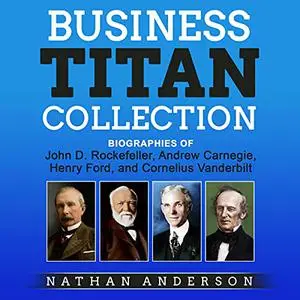 Business Titan Collection: Biographies of John D. Rockefeller, Andrew Carnegie, Henry Ford, and Cornelius Vanderbilt [Audiobook]
English | August 30, 2021 | ASIN: B09DTKL3D8 | M4B@128 kbps | 12h 45m | 695 MB
Author: Nathan Anderson | Narrators: Thomas Rode, Kevin Welch
Unlock the secrets of entrepreneurship with this ultimate collection of business tycoon biographies.
Drawing inspiration from the greatest business titans and entrepreneurs of the 19th and 20th centuries, this eye-opening book dives into the humble origins and incredible achievements of Ford, Carnegie, Vanderbilt, and Rockefeller, unveiling the tried-and-tested lessons that helped them become some of the richest men in the world.
Through their determination, cunning, and tireless entrepreneurial spirit that influenced every aspect of their lives, these four industry tycoons each brought a powerful personal philosophy that continues to inspire and motivate people to this day. Inside, you'll find an illuminating look at their personal lives and characters, their relentless drive to capitalize on opportunity, and the beloved philanthropy and charity work that cemented them as universally respected figures.
Inside, you'll discover the lives and legacies of:
John D. Rockefeller, the business tycoon and world-famous philanthropist who revolutionized the petroleum industry
Andrew Carnegie, the railroad mastermind who gave away over 90 percent of his wealth
Henry Ford, the controversial yet genius car manufacturer whose business philosophy changed the face of American labour
And Cornelius Vanderbilt, the cunning civil-war era transport tycoon who earned the nickname "The Commodore"
Artfully blending detailed facts and engaging prose with profound insights into these four business titans and their philanthropy, this collection offers you an enlightening look into the entrepreneurs of old America, making it perfect for aspiring entrepreneurs and history buffs alike.
Are you ready to discover the secrets of America's business titans? Then grab your copy now!